Note: We received this product for free. No other compensation was provided, and as always, all opinions are our own. We may earn money from links on this page, but we only recommend products we back.
This is the first time I have owned, or even handled, an everyday carry (EDC) flashlight of this caliber, and the experience has been interesting, to say the least. As someone who lives on a farm, I have always owned at least one flashlight – such tools come in handy on a regular basis. But I've always bought cheap flashlights that regularly need to be replaced.
The Fenix WF26R is far from a cheap, plastic flashlight that only lasts a few months with regular use, and although it is by no means the strongest, brightest, or best flashlight Fenix have ever made, it has plenty of features that put it well into the category of high-quality everyday carry flashlights.
The question is, is this the EDC flashlight for you? Read on to find out.
What's in the Box?
Fenix send us a lot of flashlights to review, so they don't send them to us in all their perfectly packaged glory as you, the customer, would receive them. I received a small cardboard box with no branding on it, and inside was the flashlight with its battery in place and the belt clip attached, and the magnetic charging cradle with its detachable cable.
In addition, when buying this, you would get a lanyard, a spare O-ring, a user manual, and a warranty card.
First Impressions
I unpacked everything, and my very first impression was that the flashlight was sturdier and heavier than it looked, which is saying something, because it looks pretty sturdy. It has a nice solid weight in one's hand, and a cold but comfortable grip.
It took me a few minutes of playing around to figure out that I had to take it all apart and put it back together again to get it to work. There was a battery protector between the battery and switch, and the head had not been screwed on tightly, I assume, to prevent solid contact with the battery on the other side.
Once I got it turned on, I played around a bit with the dual switches and found it very simple and intuitive to use. I was astounded by the brightness of the Turbo mode, even in the middle of the day.
Ease of Use and Handling
I decided to put the flashlight on charge to make sure it was at full power by the time I got to play around with it in the dark. It clicks easily into the magnetic charging cradle, and although it can turn slightly once attached, it was not difficult to line up the magnetic points. The LED glowed a bright red, showing me that the battery was not at full charge.
The first thing I noticed about the charging cradle is that the flashlight is very bottom heavy, which means that the cradle does not lie flat while the flashlight is charging, but with the tail of the unit lowered to the surface it is resting on. The cradle is designed to be fixed to the wall, or any other surface you choose, however, so long term, this will not be an irritation. I intend to attach mine to a wall in my kitchen where it will be easily accessible and near a power outlet.
There had been significant charge in the battery, I believe, and it only took a short time to fully charge, so of course, I had to play around a bit more when it was full.
The flashlight feels great in your hand, the switches are in a logical position, and it took me very little time to have it all figured out, Turbo mode, SOS, Strobe light, and all.
Main Features and Technical Specifications
This is no simple flashlight, and it has numerous safety features to ensure the durability of the flashlight and the safety of the user.
Intelligent Overheat Protection
The intelligent overheat protection feature protects both you and the flashlight by lowering the lumen output as soon as the flashlight reaches a temperature of 60°C (140°F), which can happen in both Turbo and High modes if used for long periods. As soon as the flashlight's temperature drops below 60°C, it will allow you to select those modes again.
Low-Voltage Warning
When your battery starts getting low, the flashlight will automatically switch itself down to a lower output, moving through the 4 basic modes until it reaches Eco mode. When the battery is too low to run Eco mode properly, the battery life indicator will flash red to let you know it needs to be charged. But be aware that this feature only works with Fenix-approved batteries.
Output, Runtime, and Beam Distance
This flashlight puts out an astounding 3,000 lumens for up to 450 meters (1,476 ft) in Turbo mode, from its Luminus SFT70 LED. The LED has a lifespan of 50,000 hours, which is good, because the LED is the one thing on the flashlight that cannot be replaced – when that dies, you need a new flashlight.
In total, the flashlight has 6 modes that operate as follows:
Turbo

– 3,000 lumens – 450 meters (1,476 ft)

High

– 1,000 lumens – 264 meters (866 ft)

Medium

– 350 lumens – 155 meters (508 ft)

Eco

– 30 lumens – 47 meters (154 ft)

Strobe

– 3,000 lumens

SOS

– 100 lumens
The flashlight can run for anywhere from 2 hours and 40 minutes on its brightest modes to over 44 hours on Eco mode only. Eco mode is not very bright, at just 30 lumens, but it is plenty of light for moving around a darkened house during an outage, if you need the battery to last a long time.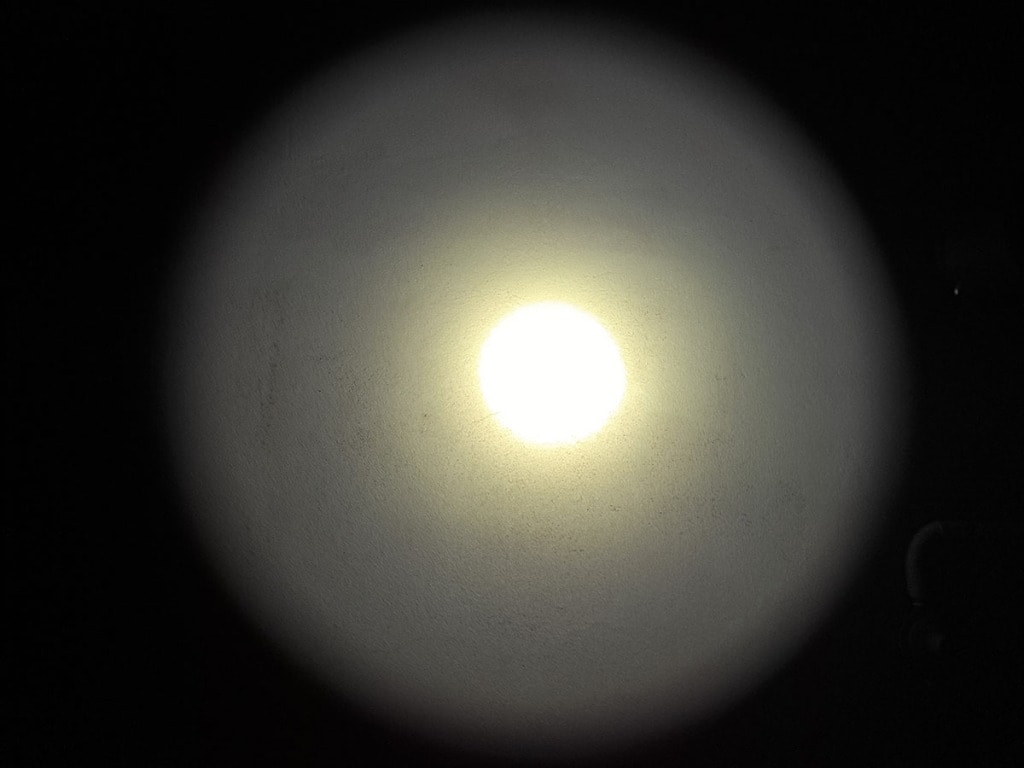 Eco mode beam – 30 lumens
Bear in mind that the runtimes of this flashlight might be affected by your environment, such as very warm temperatures or extreme humidity.
Body Design and Materials
The flashlight body is made from A6061-T6 aluminum with a premium HAIII hard-anodized, anti-abrasive finish that sits comfortably in the hand. With its Fenix ARB-L21-5000 V2.0 Li-ion battery inside, the flashlight weighs in at 222 grams (7.83 oz), which is a nice solid weight, without being too heavy to clip to one's belt or handle while doing other tasks.
It is small enough to be comfortable and easy to carry, yet not too small to feel like a proper tool in one's hand. It is never recommended to put a flashlight in your mouth while you work, but this one could easily be tucked into the crook of an arm for a short time if you need both hands. Just be sure not to burn yourself with the head if using the flashlight in High or Turbo mode.
The Beam
The beam in turbo mode
The Fenix WF26R puts out a small, bright, and perfectly round hotspot at the center of its beam, with a large spill that offers a gradient from bright in the center to dull around the edges. The flashlight has a smooth and deep reflector that gives it its excellent throw distance for such a small flashlight.
What all of this means is that this flashlight is great for outdoor uses, such as hunting, camping, search and rescue, and other tactical applications. Luckily, due it its Medium and Eco modes, it can also be used indoors without blinding the user, but the High and Turbo modes are not recommended for indoor use.
Operation and User Interface
The flashlight has its buttons on the tail, which is the only thing I, personally, would change about this device. For most people, it would probably be no issue, but I live in a country that has regular power cuts, and the most useful flashlight for me is one that can stand on its tail and shine light at the ceiling to distribute it around the room.
There are 2 buttons on the tail of the flashlight; one for the basic on and off function, and the other to cycle through the various modes. You can lightly press the main switch to turn the flashlight on as long as you are holding the button – releasing it will turn the light off, or you can full-press the switch to turn the light on fully.
Pressing the auxiliary switch will cycle through the standard modes with each press – Eco, Med, High, and Turbo, and holding the aux switch in for half a second will activate Strobe mode, which can then be changed to SOS mode by pressing the switch normally again. Holding it in for another half second will return it to the last normal mode it was in.
You can also activate the Strobe mode when the light is off by pressing and holding the auxiliary button. The strobe will switch off when you release.
The flashlight remembers the last mode it was activated in, and will start up in that mode the next time, aside from the SOS and Strobe modes, of course, so it is best to leave it on Med or Eco mode when you turn it off, to avoid blinding yourself or someone else the next time you use the flashlight.
Battery and Charging
The Battery
There are 3 Fenix-made batteries that can be used with this flashlight, so be sure to buy one of these when your battery's life is over, or if you simply want a spare from the start:
Fenix ARB-L21-5000 V2.0 (supplied)
Fenix ARB-L21-4000P
Fenix ARB-L21-5000U
The battery is very simple to remove and replace – just screw off the tail cap, and it slides right out. Replace it with the + side towards the head of the flashlight, and screw the tail cap back on tightly to ensure proper connection.
There are a series of indicators that tell you how much charge your battery has left, and these will come on each time you turn the flashlight on. The indicator light comes on for 3 seconds to let you know where you stand in one of the following ways:
A solid green light means you have 85 to 100% battery
A flashing green light shows 50 to 85% battery
A solid red light means there is 25 to 50% charge remaining
A flashing red light means your battery is below 25% and must be charged immediately
Charging
To charge the flashlight, simply plug the charging cradle's cable into a USB socket, and place the flashlight in the cradle with the 2 magnetic points touching. The battery indicator light will come on – red if the battery is not fully charged, and green if it is.
The flashlight should take around 3 hours to charge from empty to full, but I have never run the battery completely empty, so I cannot confirm this. I can say that every time I have charged the flashlight, it has only taken a short time – never more than an hour – to fully charge.
Note that the light cannot be used while the battery is charging, so be sure to keep it charged if you are likely to need your flashlight for emergencies.
Conclusion
The Fenix WF26R is a solid, comfortable, easy to use EDC flashlight that can be used in a variety of situations and for a number of applications. Despite being a long-distance flashlight with a very direct beam, it can also be used indoors on the lower modes without blinding the inhabitants.
It is intuitive and simple to use, and the uncomplicated battery indicator system ensures that you always know where you stand.
In my opinion, if you are looking for a sturdy and durable, yet small and relatively light EDC flashlight that will be useful in a range of circumstances, you can't go wrong with this device.