I was chosen to review the new Fenix BT20 from a list of applicants that applied back in October 2012.
This product was sent to me free of charge and I have no direct affiliations with this company.
My objectives for this test will be to provide my option on:
1 - Quality of the components
2 - Run times
3 – Beam patterns and its usefulness on the trail.
This will be an ongoing review as I have not yet been able to make time to ride with this light. But since receiving the Fenix BT20 only three days ago, I have been out to shoot some beam shots on one of my favorite trails. I was quite surprise on the results.
But first some pictures of what's included in Fenix's BT20 "The World's First Bike Light with Dual Distance Beams."
Side view
Back
Top
With battery case
Front
The components that are included in the box are, user manual, warranty card, helmet strap, extension cable, three O-rings, battery case and battery case holder.
Oh…Batteries are not included!
The user manual came in English and Chinese. It's pretty straight forward, gave good descriptions on the products features, parts included, technical info on battery to use and run times. Also has instructions on mounting and operation of the light. As well as the all-important safety tips with diagrams to along with certain sections.
Warranty period is 24 months and Fenix will repair any defective product for free.
The helmet strap is made from plastic with nylon straps and a plastic push down clamp. I would of preferred Velcro strap instead as the push down clamp seem kind of thin. The mount has a foam bottom to prevent it from moving once clamp down to your helmet. As for this type of mount, the height of the light is about the same as most other brands out there. I guess this is an issue companies have when they want their lights mounted both on the handle bars and on the helmets.
The extension cable is stiffer than I would like. It's only 70 cm / 27.5 inches in length, while most other companies have their extension cable at the 1 meter mark (about 39 inches). So this extension cable falls a little short, especially if you're a tall person.
Battery case holder is made from plastic has a screw down lid and holds two 18650 or four CR123A lithium batteries. The holder fits in a nylon pouch which you can attach via Velcro to the back of your helmet, bike frame or just put it in your water pack pocket. My dilemma is, it only holds two 18650's. Why? There is no option to use four 18650 for longer run times. To me this is a deal breaker, as I would like to have longer run times with my lights without having to change them while on the trail. The holder itself appears to be of quality. Opening the case, you'll see it has a washer around the top making this water resistant if not proof when screwed down tight. The case can only be closed one way and has markings on how the two pieces should come together. So there is no worries in reversing the terminals.
You get three O-rings, small, medium and large. Small and medium would be used the most. Medium mounts the light to the helmet strap. Depending on the type on handle bar you have, you'll either use the small or medium O-rings. I found the small O-ring gave me a tighter grip on my handle bars. The O-rings are about middle of the pack, it's not the thinnest and not the thickest that I've seen.
The light head is about 67mm in length, 38mm wide and 39mm in height not including the stand. Made out of aluminum, it's light weight and compact. It uses a reflector and has a glass lens. As you can see from the picture, the lens itself has an engrave etching on it at the top. Now this could be what gives the Fenix BT20 the dual beam pattern, which is what I'm guessing at. The light head has no openings, seem to be water resistant and can swivel 360 degrees to help with mounting.
The power button at the top of the light is made from rubber/silicone. Hold it about one second to turn it on and each press after will cycle through the four modes, low, mid, high and turbo. I love this feature as the flashing mode is not included in the cycle. To access the flashing mode you'll have to double press the power button. To return the normal press the power button once. The light also has memory, so it will remember the last mode you're in when you turn it off (except flash).
The power button is also an indicator of the battery capacity.
100% - 50% - Solid Green.
50% -20% - Solid Red.
Less than 20% blinks red.
I love this feature also. I always wanted to include this in my light build, but I'm just to lazy!
Light modes and run time are as follows:
Low – 100 lumens, 21 hrs run time.
Mid – 300 Lumens, 6.5hrs run time.
High – 450 lumens, 4hr run time.
Turbo – 750 lumens, 2hr run time.
Flash – 300 lumens, 21+hrs run time.
Now I did have an issue with run times. I ran a test for "Turbo Mode" to see if the 2hr run time was accurate and ran the test in front of a fan on mid setting. Batteries were fresh out of the charger. Both had a voltage of 4.1v according to my multimeter.
Place both in the holder and took voltage reading again.
No load – 8.0v
Low – 7.9v
Mid – 7.8v
High – 7.5v
Turbo – 7.1v
Now to my surprise, after about 2-3mins the battery indicator went red on the power button. WTF? I let the test continue and after about 40mins the light automatically switches from Turbo to High mode. I would manually switch it back to Turbo but after about 5mins would switch back to High. At about the 1hr and 15min mark, the light drop to Mid. At about the 1hr and 35min mark drop to Low. At this point the power indicator was a solid red. I can manually switch to Turbo mode but the light would automatically cycle it down to low mode. At the two hour mark the light was at "Low mode" with a solid red indicator.
I stop the test at this point. Re-did the test with a new set of fresh batteries and got the same results as above. I don't know why this has happened, was it the light or my batteries? I have about eight blue TrustFire 18650 from DX. I know they're not the best, but I haven't had any issue using them on my light builds. So what gives? I've sent an email to Bob at Fenix regarding this issue and waiting to hear back from them. Or maybe they'll come on hear with an answer. Stay tune for an update. This is a major concern for me and anyone looking into buying this product. My option is…four 18650s is better than two. Would it cost any more to make a holder for four 18650s as batteries are not included with this set?
Another concern is that Fenix has reversed the power plugs. The male end of the plug is now on the battery and the female part is on the light. Not sure if this was indented to deter using existing battery packs that you may have. Or how safe it is to have the male metal plug on the battery end? Will having this on the battery make it easier for them to short out?
Also it would be nice to know what the max input voltage is. Maybe Fenix should include this in their manual under "Safety Tips" just in case anyone is trying to use a DIY battery pack. So that they don't short out the light.
Now to the good part…beam shots!
Before I show you the pictures, I have to say that I was very impressed with the amount of light and the beam patterns the Fenix BT20 produces. It does give you the best of both worlds. If I have to ride with one light and one light only, the Fenix BT20 would be at the top of my list. Hands down this would be my choice for a handle bar light. Not sure about a helmet light just yet, I guess I have to ride with it to be sure. But I'm sure that having two Fenix BT20s will be all the light you'll need for riding your favorite trails at night. Unfortunately Fenix was not able to provide me with a second light to cement my option.
The LED used is an XM-L T6. My understanding that it has a neutral tint to it. I compared it to my neutral set up and the BT20 is more on the coolish side of things. I would say just below the 5000k mark.
So instead of using another thousand words, I'll let the picture tell the story.
Camera settings: Nikon D70s
Manual
ISO – 200
WB – Daylight
Shutter – 3 second
F stop – f4
Control No Lights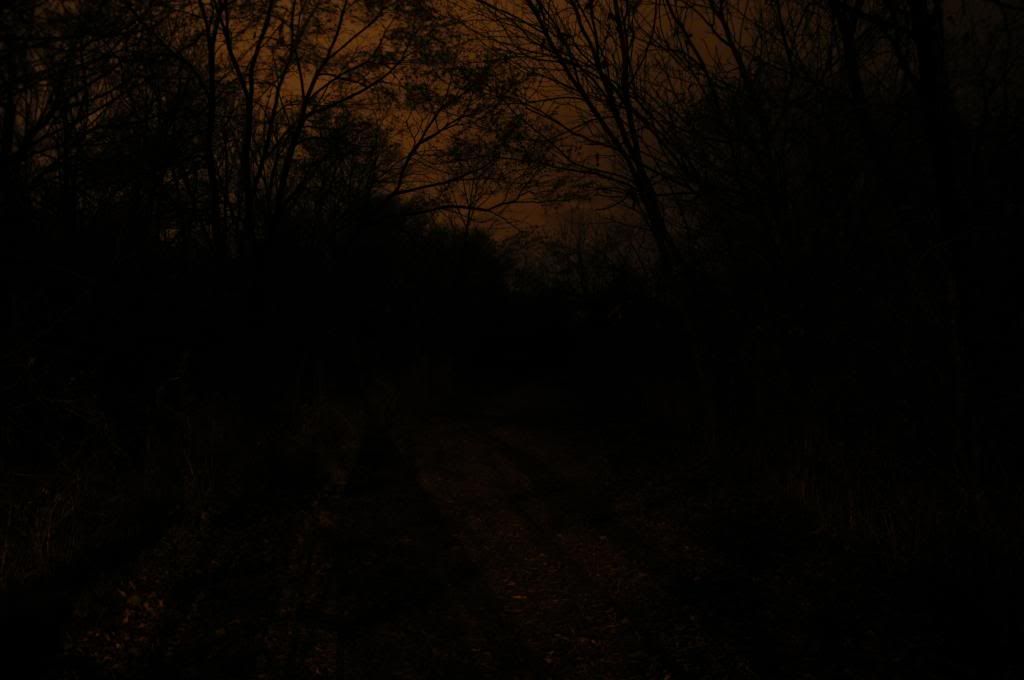 Low
Mid
High
Turbo
As you can see, to me you have a very useful beam pattern. A lot of light in-front of the bike and a good amount of throw so that you can see what is up ahead. My estimate is the amount of light thrown forward is usable to about 80ft. Having a second light should improve on this.
Comparing the beam pattern to my lights and that of my friends, I would need two lights to produces the same pattern. A wide flood on the handle bars and a tight spot on my helmet. The Fenix BT20 does both with one light set up pretty darn well!
I'll update this review after I have a chance to ride with the BT20. Posting more pictures and maybe a video.