From:http://www.candlepowerforums.com/vb/showthread.php?371068-Fenix-PD35-850-Lm-powerful-compact-18650-flashlight-REVIEW
All the flashlights from Fenix PD series are maximum compact and powerful.
Equipped with the latest,high efficiency components to give us the maximum we can get from a flashlight at the moment.
PD 35 is the latest and most powerful(850 lumens) in this series and allows the user to have powerful lighting tool that is easy to carry
and use always when needed.
Fenix PD35 gives to the user outstanding performance in compact,lightweight body,longest runtime using a single 18650 battery
or two CR123A batteries,high maximum brightness thanks to the latest and high efficient Cree XM-L2 U2 emitter.
First impression-excellent machining,anodizing,knurling,lightweight body(only 87grams),excellent shape of beam.
Only 14cm long and 87gr weight.
PD35 comes well packed in a cartoon box. Accessories-holster,lanyard,2 spare O-rings,spare switch boot.
In the box you will find also a Warranty card and User manual.
Optional accessories can be purchased separately-Transparent diffuser tip;Traffic wand;Remote pressure switch;Belt clip;
Nice holster,fits well.There's a simple loop for belt attaching.No velcro option for attaching on the back.
As expected machining is excellently made with no sharp edges. Excellent design provides a very good grip.
The shape of the PD35 makes it easy to carry in a pocket and use it with bare hands or gloves. Very sturdy pocket clip,securely attached.
A little bit more tight than needed in my opinion. The flashlight can not tail-stand. There are 3 cooling fins on the head.
They help for heat dissipation that improves the efficiency and lifespan of the components.
The fins have also anti-roll function. Top notch Type III hard anodizing,excellent all over the body.

Technical Parameters
·Cree XM-L 2 (U2) LED with a lifespan of 50,000 hours
·Uses one 18650 rechargeable Li-ion battery or two 3V CR123A Lithium batteries
·139mm (Length) x 25.4mm (Diameter)
·87-gram weight (excluding the battery)
·Digitally regulated output - maintains constant brightness
·Low-voltage warning function to remind you to replace the battery
·Reverse polarity protection guards against improper battery installation
·over-heat protection to avoid high-temperature of the surface
·Anti-roll, slip-resistant body design
·Tactical tail switch with momentary-on function
·Side switch on the head
·Made of durable aircraft-grade aluminum
·Premium Type III hard-anodized anti-abrasive finish
·Toughened ultra-clear glass lens with anti-reflective coating
-Peak beam intensity 8600cd /185 meters max throw
-Waterproof- IPX-8,underwater 2m
The flashlight can be disassembled on three main parts. The battery tube is good thickness.
The most important thing-there is enough space in the tube for all types 18650 batteries-flat top,button top,big protected batteries.
All they fit excellent in the PD35.I am happy that I can use protected batteries with the highest capacity.
There is a spring at the both ends.This ensures excellent connection with the battery and good protection against damage from impact or drop.
Reverse polarity protection guards against improper battery installation.
Using protected batteries that are too long,like non branded Panasonic 3400 cell protected is not recommend because the springs will be under extreme pressure and this will interfere with their functioning.
The flashlight uses a tactical tail switch(forward clicky)with momentary-on function for turning the light On/Off.
PD35 has a side switch for changing the modes Eco-Low-Medium-High-Turbo and Strobe.
Excellent knurling. Trapezoid-cut threads,perfectly anodized for wear resistance. One of the best made threads that I've seen.
Very clean.The same size at both ends.

Smooth aluminum reflector with diameter 20mm.
I am impressed of the beam pattern.It is absolutely flawless result for a 20mm smooth reflector and XM-L2 LED.
Very clean beam with no any circular patterns or dark zones.
Very bright and homogenous central spot with perfect round shape.Very useful,bright spill.
I have never expected so good beam from such a small head flashlight.It is better than many bigger-head flashlights.
High brightness and efficiency Cree XM-L2 U2 LED.
Toughened ultra-clear glass lens with anti-reflective coating.Reflector and glass absolutely clean of dust.
Perfectly centered LED for maximum concentrated hotspot and best possible beam shape.
User Interface
Using the PD35 is easy to remember and convenient.

Five constant brightness levels Eco-Low-Mid-High-Turbo and one flashing mode-Strobe.
Pressing the tail switch lightly activates the light momentary.
Full press activates the light constantly.Full press again to turn the light off.
The lighting mode can be changed easily by pressing the side switch.
Strobe can be activated by press and holding the side switch for 1sec from any mode.
Press the side switch again to return to the mode used before Strobe.
There is instant(fast) memory for the last used mode.
The memory is really quick and when you turn off the light you know for sure what mode will start next time.
The response from the electronic driver is excellent.Different modes can be cycled really fast.

Eco 10 Lumens /140h
Low 45 Lumens /29h
Mid 170 Lumens /7h45min
High 450 Lumens /2h30min
Turbo 850 Lumens /1h15min
Strobe 850 lumens-dual frequency

The modes are well spaced.The Turbo is extremely bright.The Low and Eco are very useful when a long runtime is needed.
5 modes are quite enough choice for most of the time,but my opinion is that a 2 lumens eco mode would be very useful in certain situations.

As a high performance light,the PD35 accumulates significant heat while at Turbo output.To protect the light and battery,PD35 drops down into the High brightness level after running at Turbo output for about 5 minutes.
There is another step down to Mid brightness level after about 30 minutes working on High mode.
These steps down are time controlled,so If you want again the higher mode you just have to reset the light(If the flashlight is to hot,reset is not recommend and can cause damage to the flashlight).

The flashlight is lightweight which makes it easy to carry and use,but also means that the thickness of the aluminum is not enough to manage the heat from the LED,running at maximum current for extended period of time.This protection is really necessary here.
Fenix PD35 has also a low-voltage warning function.
When the voltage level drops below the preset level,the flashlight is programmed to downshift to a lower brightness level.When this happens in Eco output mode ,the flashlight blinks three times every five minutes to remind you to replace the battery.

The brightness is current controlled,so there's no any sign of pwm.

My measurements

Peak beam intensity 11000 Lux measured at 1 meter distance.
Current Draw
U battery=4,16V
I turbo= 2,88A
I High= 980mA
I Mid= 300mA
I Low= 87mA
I Eco= 28mA

I measured only for about 80 minutes.After that I stopped measuring.
Battery Sanyo 2600 protected
All measurements are taken with a non-calibrated Lux meter
This measurements are maximum values,not ANSI.
Beamshots

The beam that Fenix PD35 produces is very well concentrated in a big hotspot with very bright spill.
Transition from spot to spill is not so smooth as the beam from the Orange Peel reflector lights,but the PD35 has a great throw for a 20mm reflector.
There's no any circular pattern in the beam.This is really beautiful beam.
Excellent work done by Fenix.

1m,white wall, 1/20sec, WB locked

The images are not in their best quality because the image host site has compressed them.
You can see the pictures in higher resolution here- http://imgur.com/a/6tzlY/embed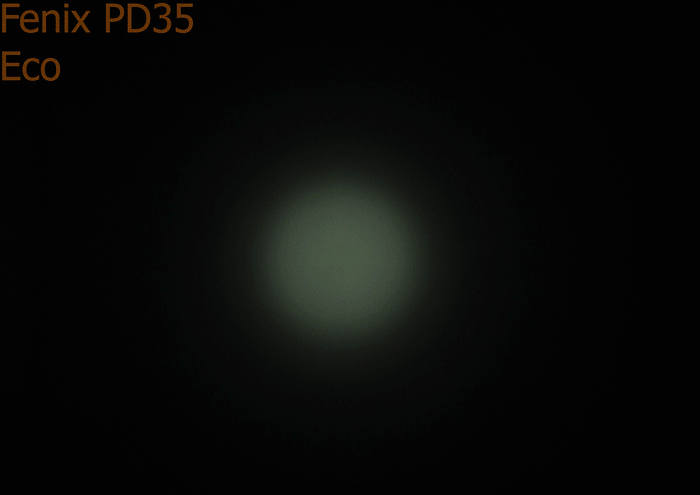 1meter, White wall, 1/250sec, WB locked
Outdoor Beamshots
Distance ~30 meters, 3,2sec ,WB locked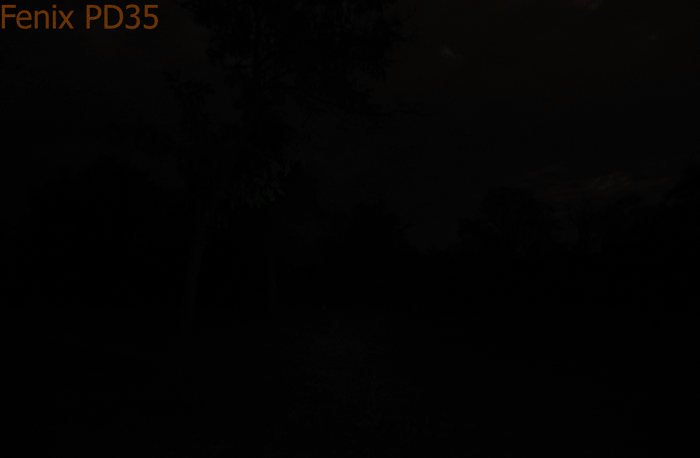 Fenix PD35 Turbo (850 lumens)



For higher resolution pictures,see the album here- http://imgur.com/a/TYtMv/embed
Distance 30 meters



As confirmation of its quality Fenix PD35 won The Best Of Show Award in AFTA(The Australian Fishing Trade Association)
Trade Show 2013.
The award is for best outdoor and camping product.

I tested the waterproofness of the PD35 in the nearby river.The water was very fast and relatively cold.
As expected from a high quality product,the flashlight performed exellently.No leaks,no fog under the glass.
I used the both switches a few times under water.Everything is well sealed.
Half of the pictures and the video review are made after this test.You can see that the flashlight is in perfect condition.
The PD35 is an excellent choice for all outdoor activities-fishing,hiking,camping,etc.






The flashlight's body is well balanced and stays very stable in hand.
Very good grip even in a wet hand.
The shape of the flashlight allows also a 'cigar' grip-a very useful feature.



In conclusion,Fenix PD35 is a right choice for everyone that wants an extreme powerful and at the same time compact flashlight,easy for EDC use or any outdoor activities.This is a trusted light that you can count on it. Definitely this is my choice for a 18650 flashlight for close and medium distance illuminaion.




Thanks for reading!


This great flashlight was provided by Fenix for review.