Fenix have released a new headlamp HL10 powered by 1AAA battery. It is pure flood with a 90 degree beam angle (i.e., it illuminate a confined area). Although it's a headlamp, it can be used as a key-chain light.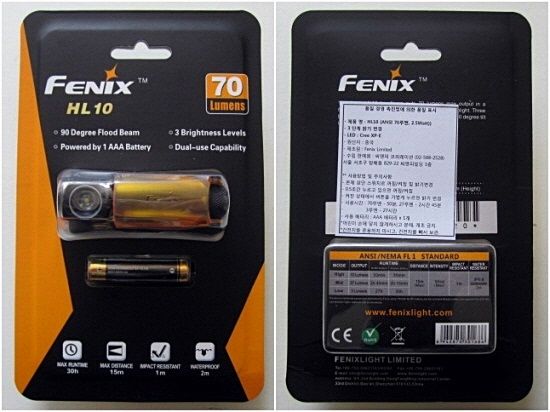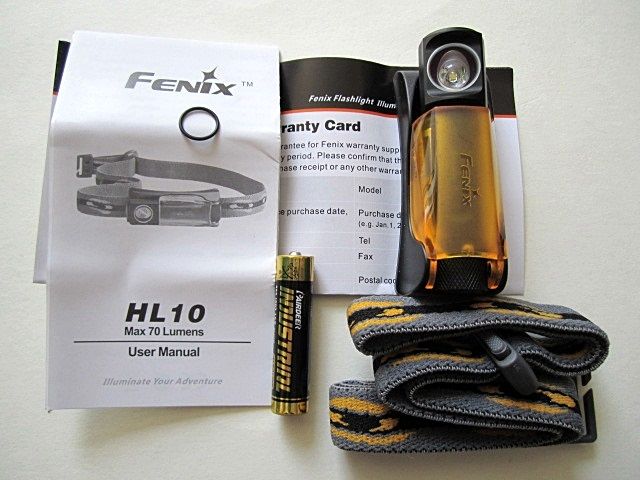 The light comes in a plastic clamshell with a cardboard outside. It comes with a headband, spare o-ring, 1AAA Alkarine battery, user manual and warranty card.
.
.
Manufacturer Specifications
from Fenix website & manual :
• Utilizes Cree XP-E LED with a lifespan of 50,000 hours
• Uses one AAA (Ni-MH, Alkaline) battery
• 69.5mm(Length) ×29.2mm (Width) ×28.2mm(Height)
• 45.2-gram weight (excluding the battery)
• Mini light stands upright when removed from the case
• 100-degree tilt mechanism focuses the HL10 where needed
• Digitally regulated output - maintains constant brightness
• Reverse polarity protection guards against improper battery installation
• Made of durable plastic and aluminum alloy
• Premium Type III hard-anodized anti-abrasive finish
• Toughened ultra-clear glass lens with anti-reflective coating
• Brightness & Runtime : High (70 lumens : 50min), Med. (27 lumens : 2hr 45min), Low (3 lumens : 27hr)
• Peak beam distance 15m
• Intensity 55cd
• Impact resistance 1m
• Waterproof IPX-8, underwater 2m
.
.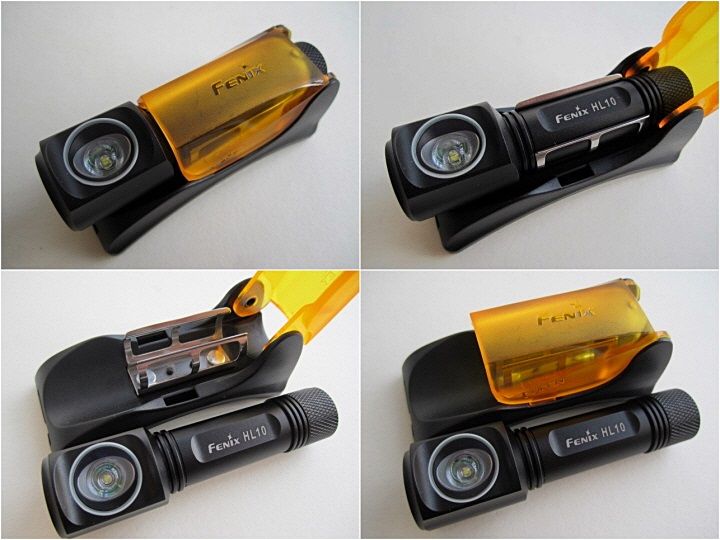 The HL10 headlamp is a light and holder structure. You can use it as a key-chain light, if you want.
.
.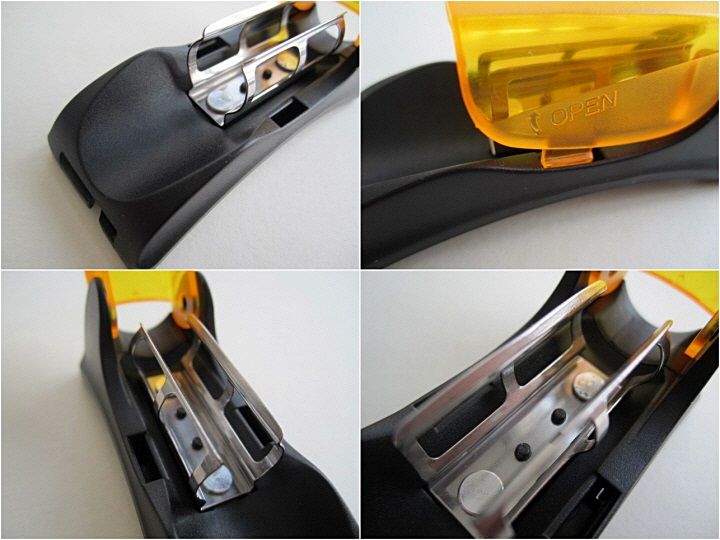 The holder is composed of (1) yellow hard plastic cover which protect the light from outside impact, (2) metal clip holding the light, and (3) black hard plastic bracket.
The metal clip holds the light fairly firmly, but there is a risk of scratching the light when pulling it off or fitting it into the clip.
.
.

The hard (type III) anodizing is a matt black and consistent throughout with no chips or blemishes to be found on my sample. Labels are fairly minimal and not as bright as other lights, but clearly legible against the background.
.
.

The light has electronic control switch on the head. The switch cover has a textured grip, and is slightly protruded. It has a firmer switch feel, requiring a more definite click to activate. There are two small protruding shapes protecting the lens from either scratching or damage. The diamond-shape knurling is present over tailcap only.
.
.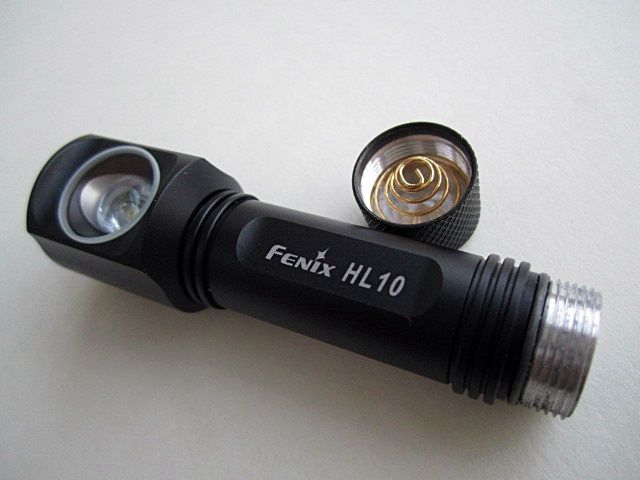 The light has 2 parts (i.e. integral head-battery tube, tailcap).
.
.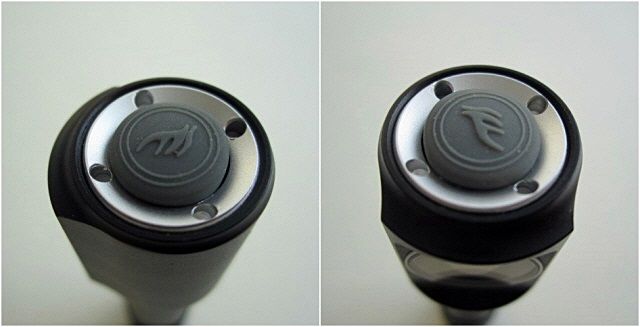 The switch is covered with textured boot covers, and are easy to access. Feel of the switch is good for this type, with a lightly audible click as you make contact.
.
.

The purple hue is reflected on the upper glass lens. Note that there is an upper AR coating glass lens and a lower plastic convex lens. There is a black & ash-colored metal reflector between the upper and lower lens. The XP-E emitter with R4 output bin was not perfectly centered on my sample. But it was reasonably centered. It seems to be there is no centering disc. It does not seem to affect the beam noticeably or make artifacts in the beam. It's acceptable. Scroll down to later in the review for beamshots.
.
.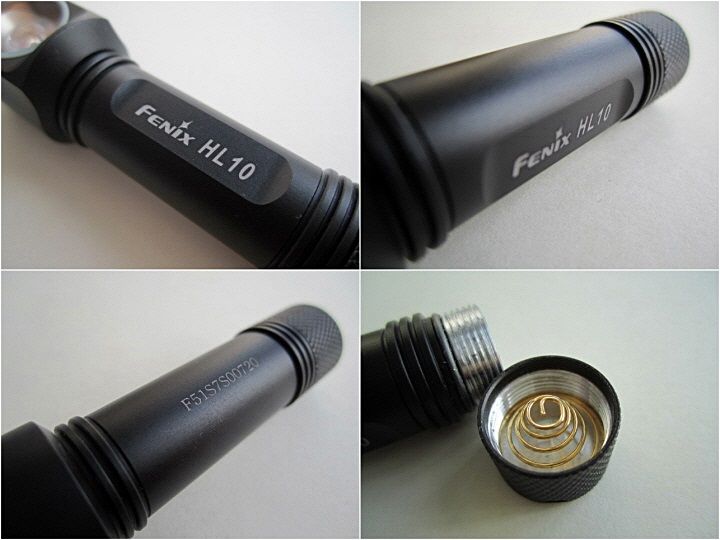 The battery tube has a clean cylindrical tube design with a flat face machined on where manufacturer name & model name are printed. There is no knurling on the tube, and it has a small notches on both ends of the battery tube to be properly attached on the metal clip. The serial number is on the opposite side of the tube. Tail threads are not anodized, so tail lockout is impossible. Base of the tailcap has a simple gold-plated spring.
.
.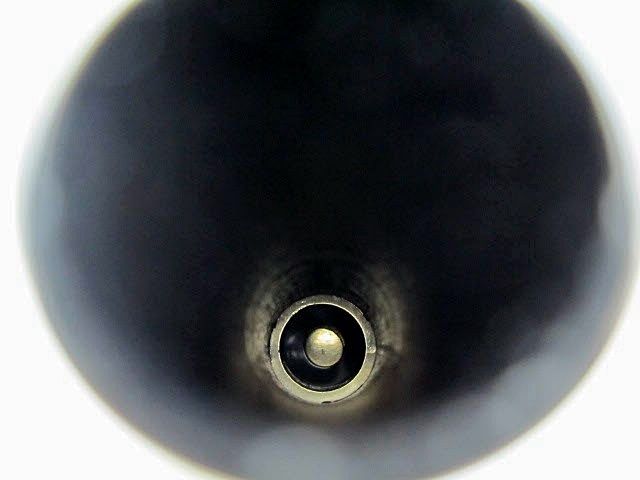 The positive contact in the head has a physical reverse polarity protection.
.
.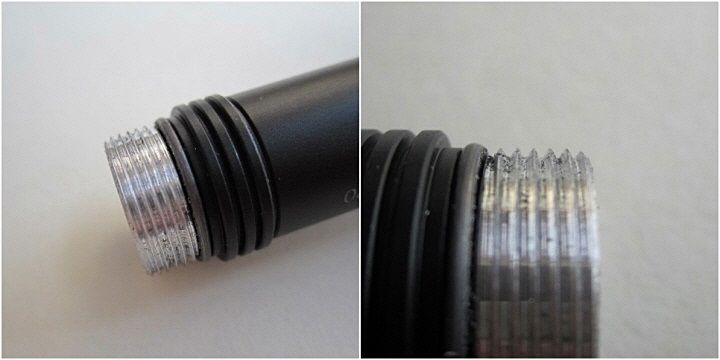 The screw threads are good quality triangular-cut. My sample has no lube on the threads. But I haven't experienced any problems with cross-threading.
.
.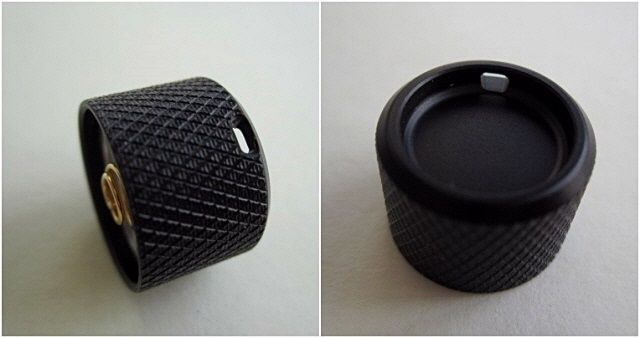 The rear end of the battery tube has a tiny hole for split-ring attachment. It seems to be weak, as it is near to the edge.
.
.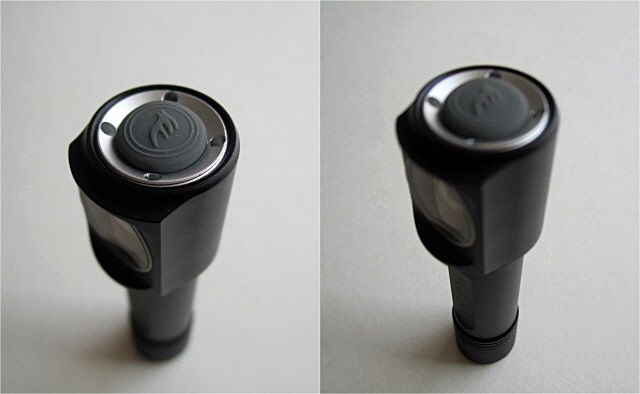 The HL10 could tailstand, without the split-ring attachment.
.
.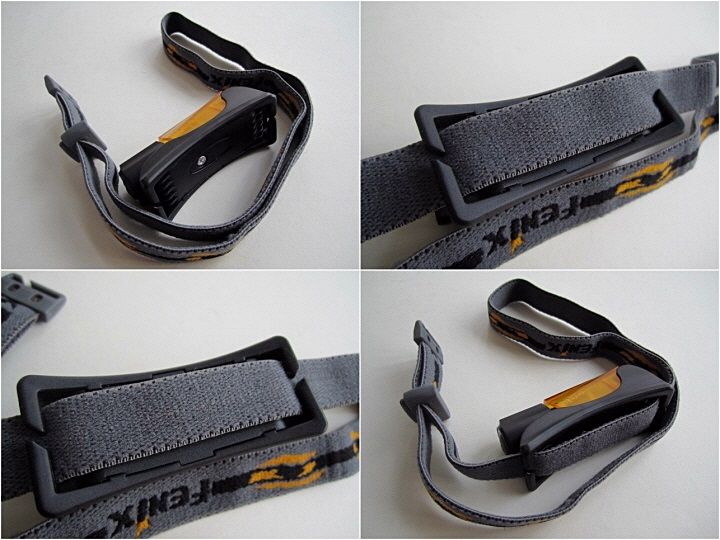 The headband is good quality, and worked well in my testing. It holds the headlamp securely (both within the holder, and strapped to your head), but still allows for accurate positioning. The headband may not fit to those who has large head size.
.
.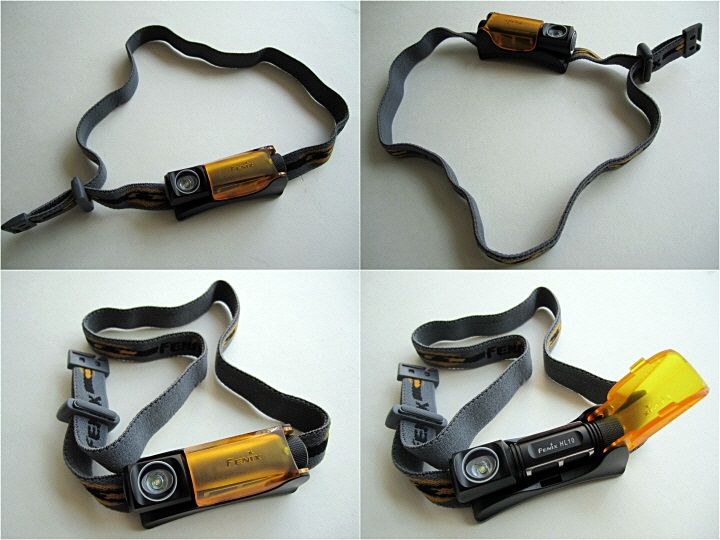 There is a stopper for adjusting the strap.
.
.

The weight of the HL10 is as light as a feather, if I may be allowed a little exaggeration.
.
.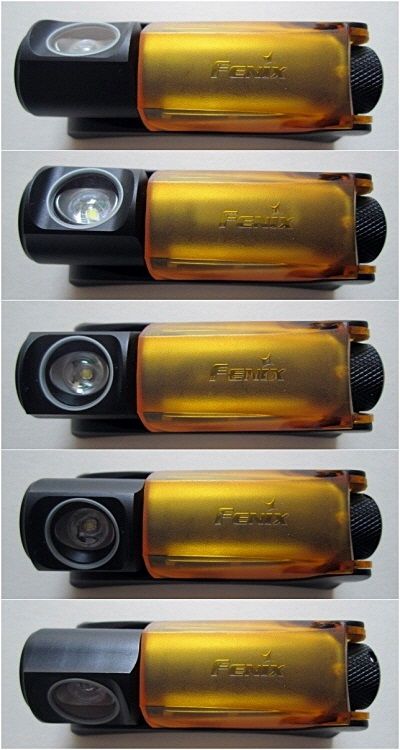 You can see the light adjust angle in the black holder. The angle adjustment is about 100 degree and is not moved at any point during use.
.
.
Standby Current Drain
Due to the electronic switch, there is going to be a standby current drain when a battery is installed. I measured this current as 14.8 uA. Considering Eneloop AAA (800mAh) capacity, that would give you around 6 years before one fully charged battery would be completely drained. The drain is absolutely nothing to worry about on NiMH. As there is no tail lock-out feature, I recommend you keep a battery separate from the light when not in use for a long time.
.
.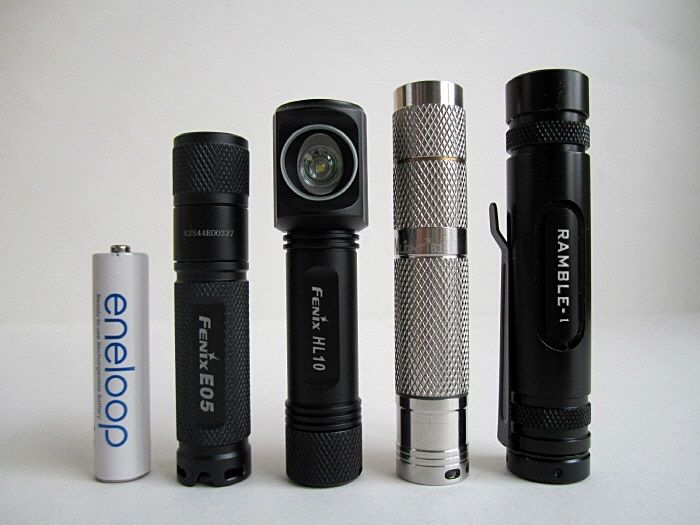 From left to right, Sanyo Eneloop AAA(800mAh), Fenix E05, Fenix HL10, N-Light B3, Skilhunt Ramble-i.
.
.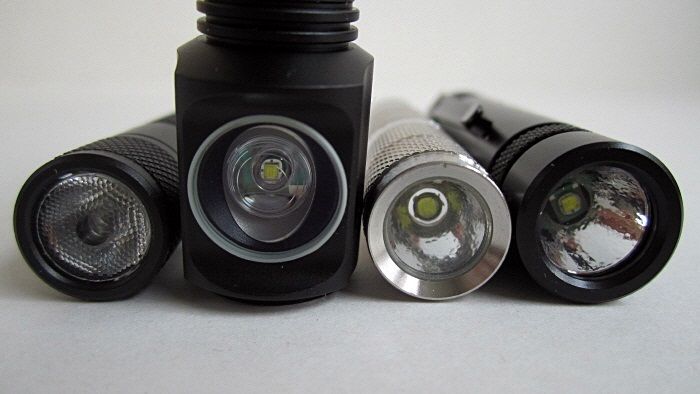 The head size & light weight excluding battery of the lights are as follows :
E05 - 14.1mm / 11g, HL10 - 19.9mm / 19g, B3 - 14.0mm / 34g, Ramble i - 15.5mm / 23g
The bare light is a negligible 19g.
.
.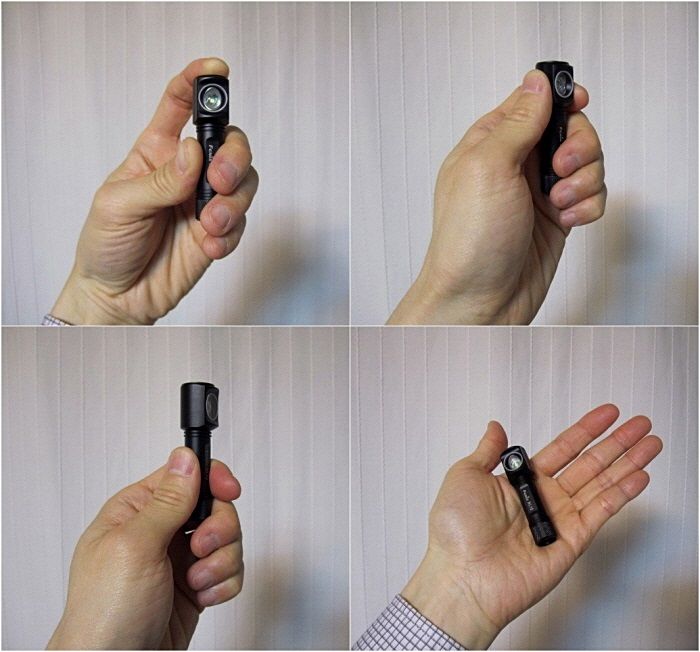 The light itself is very compact.
.
.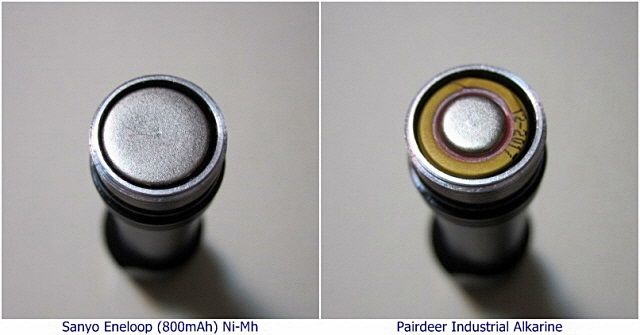 The wall thickness of the tube is 1.44mm (at thick side) & 1.04mm (at thin side), and the inner diameter of the tube is 10.63mm. The light feels solid. The use of Li-ion 10440~10450 rechargeable is banned.
The build quality
is excellent.
.
.
User Interface
There are three constant output levels only (i.e., no flashing mode).
The light is turned on/off by pressing and holding the switch for 0.5 seconds.
Give a quick click of the switch to advance through outputs when on, which proceed in sequence from Low -> Med. -> High, in repeating sequence. The light has mode memory, and remembers the last output level used when you turn the light off and back on, (even after a battery change).
.
.
Measured Dimensions & Weight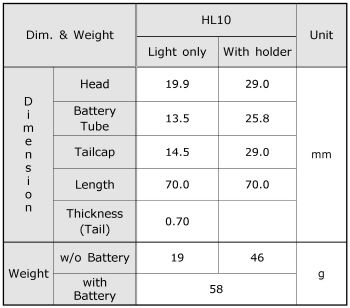 .
.
PWM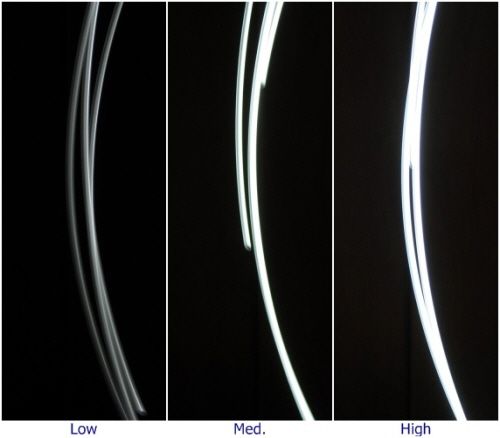 The lights show no sign of PWM at any output level. The light is constant current controlled. I notice there is no buzzing sound at any levels.
.
.
Runtime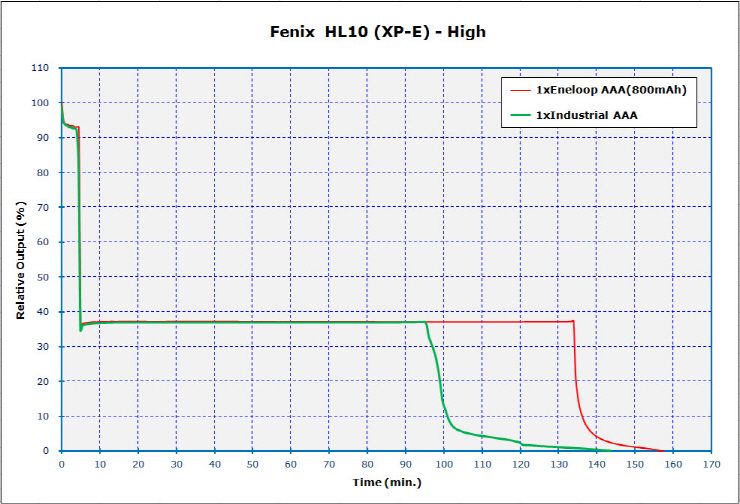 The runtime to fall to 10% of its initial output from 30 seconds after the point the light is first turned on (i.e., based on ANSI FL-1) for High output is as follows :
1) 1xSanyo Eneloop AAA (Ni-MH) : 136 min.
2) 1xIndustrial AAA (Alkarine) came with the light : 101 min.
.
.

Relative Output Comparison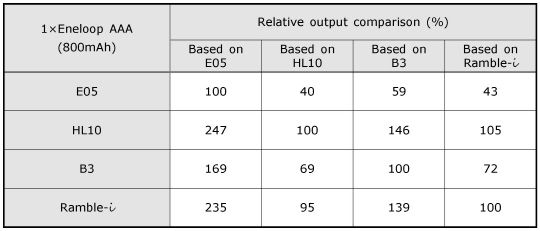 .
.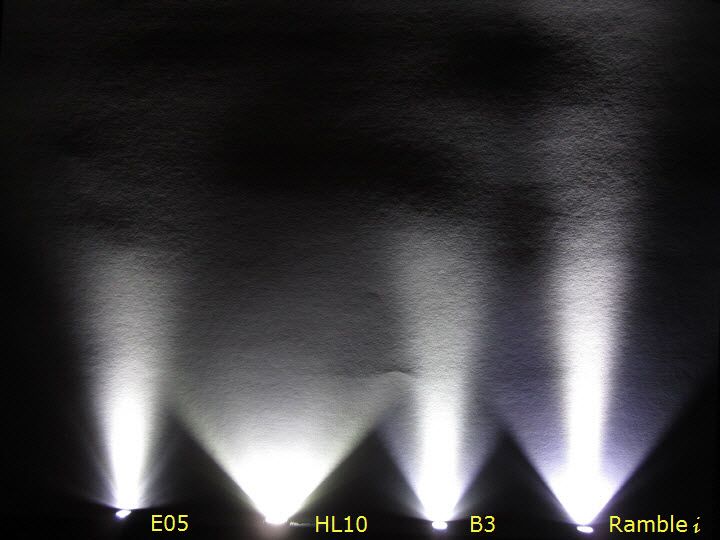 The light gives a true flood beam with an almost 90 degree beam angle.
.
.
Beamshots
1. White door beamshot (about 50cm from the white door on Max. output on Sanyo Eneloop)
- ISO100, F/3.1, 1/20sec, Auto white balance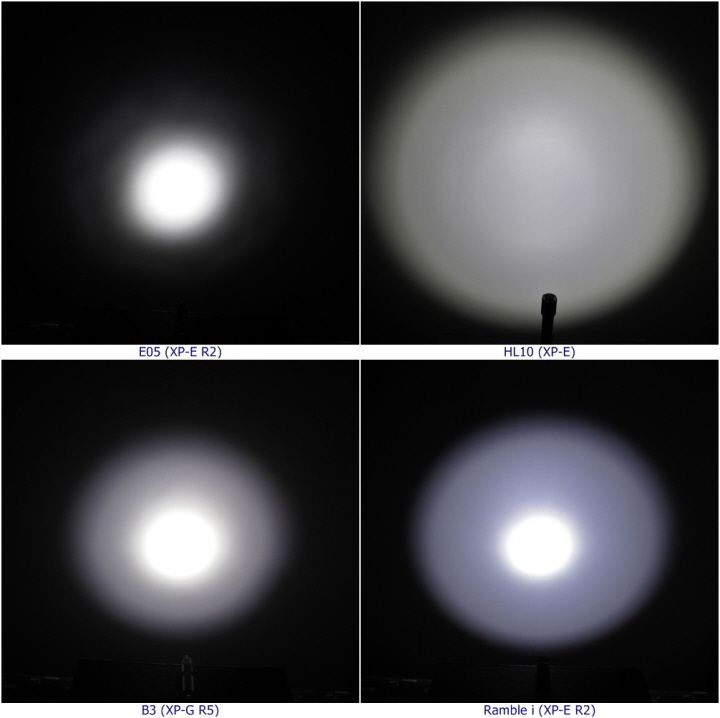 .
.
- ISO100, F/3.2, 1/40sec, Auto white balance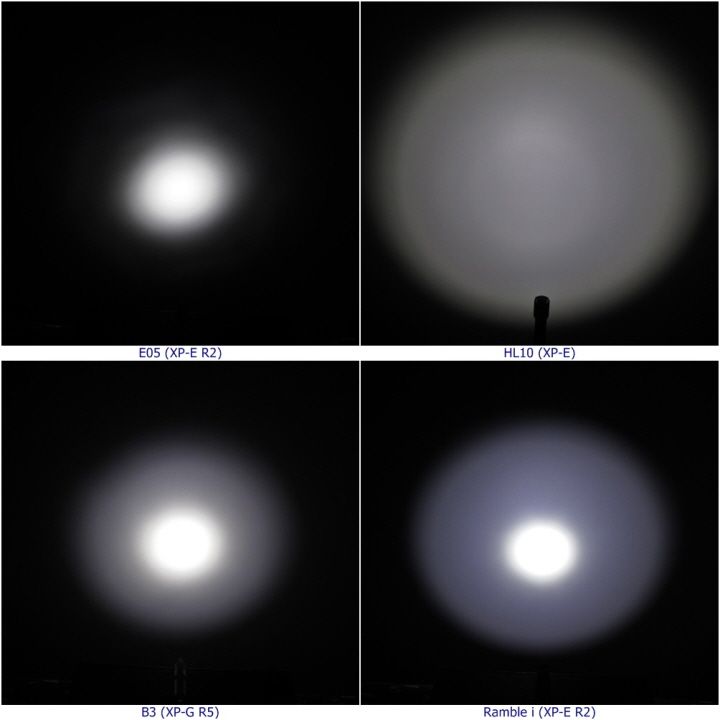 .
.
- ISO100, F/3.2, 1/80sec, Auto white balance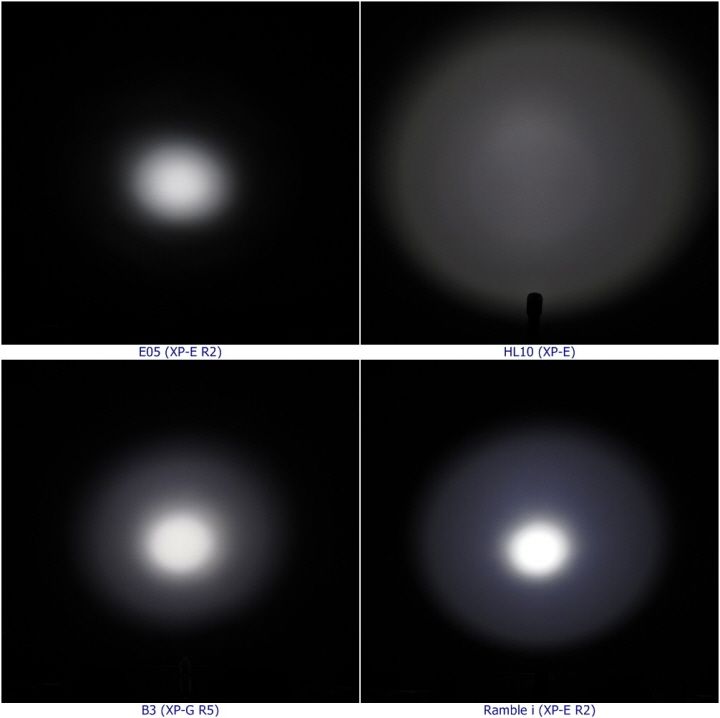 As you can see, beam profile is not so clean in a very short distance. But the HL10 is all flood very nicely. Tint is slightly warmer (i.e., my sample is actually neutral white in tint).
.
.
2. Indoor beamshot (about 90cm from the target on Med. output on Sanyo Eneloop)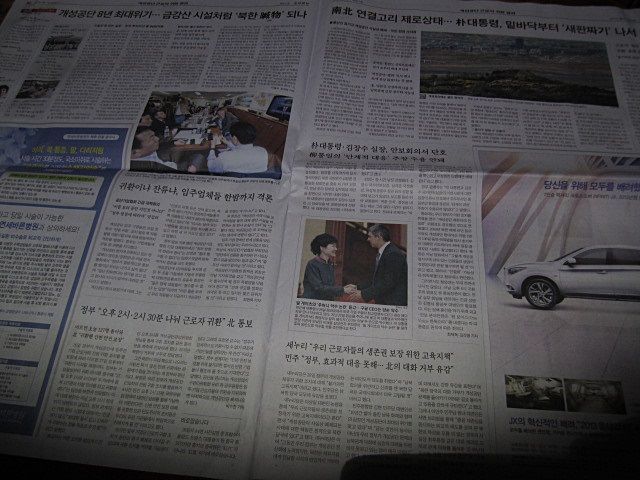 It's very useful to read a book or newspaper or map on Med. or Low mode.
.
.
3. Indoor beamshot (about 3.5m from the target on High output on Sanyo Eneloop)
- ISO100, F/2.8, 1sec, Auto white balance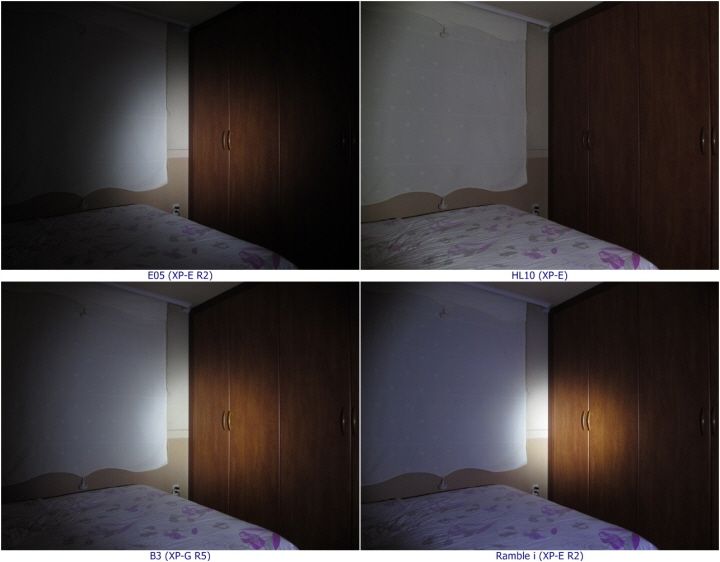 .
.
4. Indoor beamshot (about 4.0m from the target on High output on Sanyo Eneloop)
- ISO100, F/2.8, 1sec, Auto white balance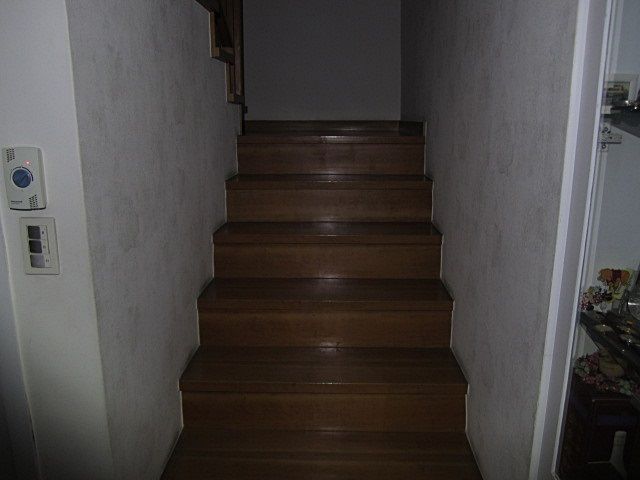 .
.
5. Indoor beamshot (about 7.0m from the target on High output on Sanyo Eneloop)
- ISO100, F/2.8, 1sec, Auto white balance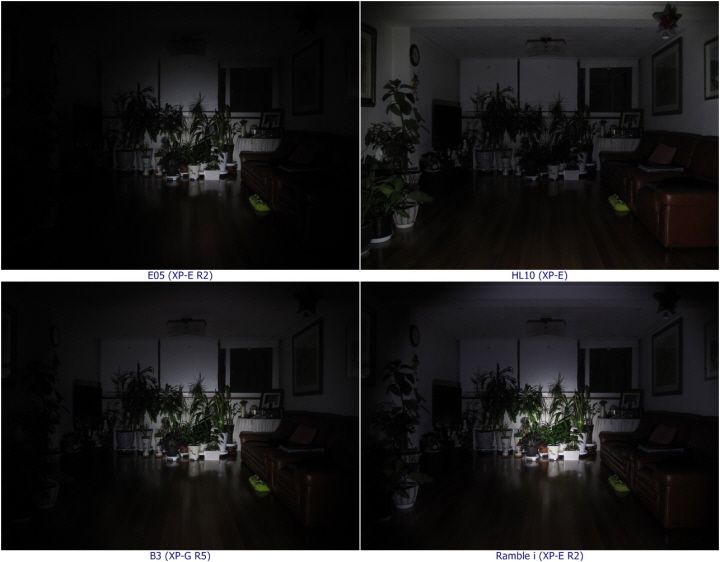 .
.
Thanks for watching!